Guro Masquerades
In 1993 - 1994 Jenny Lynn McNutt documented the masquerade ceremonies of the Guro and Bamun cultures in Ivory Coast and Cameroon. On her first visit a Fulbright Fellowship allowed her to live with the Guro people for a year to study rural based, cultural traditions. She has subsequently returned to collaborate primarily with urban artists. In 1996 a grant from the Eastman Foundation enabled her to edit hours of footage resulting in two video documentaries, Guro Masquerades and Stories from Abidjan. She has also worked with celebrated choreographer and teacher Rosemarie Guiraud of the Ivory Coast.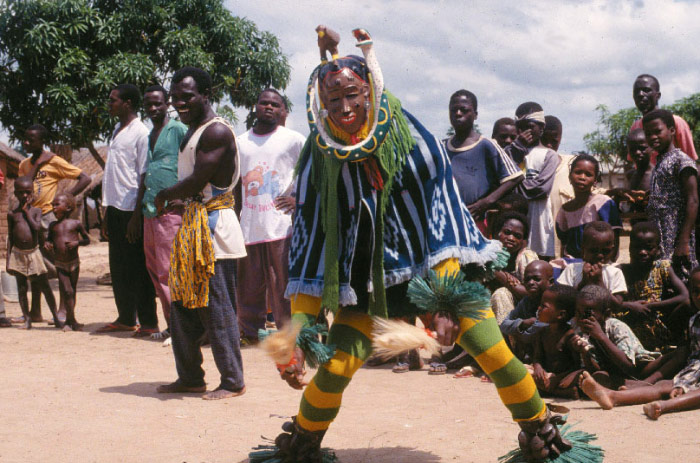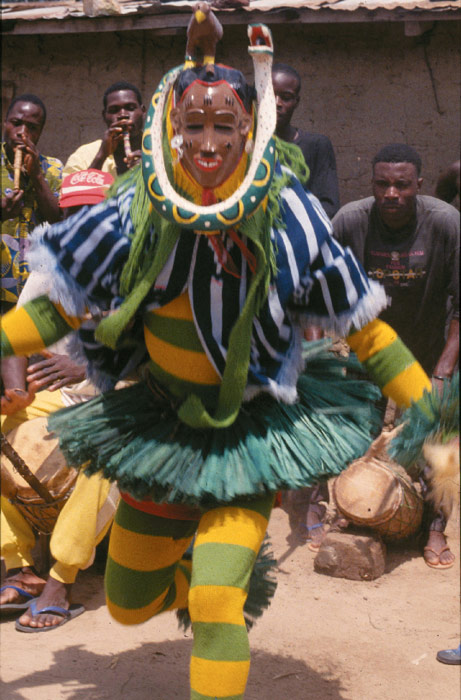 In West Africa the masquerade, an enduring multi-media spectacle, is the culminating aesthetic experience in a dazzling display of visual and performing arts. By no means a relic of former times, it is a dialectic form par excellence changing to express the needs and reflect the lives of people here at the dawn of the 21st century. Masquerades originated in rural as well as urban environments, in agrarian settings, as well as commercially complex societies. They spawned a percussive performative style that endured the Middle Atlantic passage and continued to flourish in fresh incarnations on far shores. The brilliant driving force of West African cultures continues to influence music and performance especially in the Americas. Behind the display of virtuosity on well-known themes and endless improvisation is the belief in the transformative power of art. Visual and philosophic streams of creativity and imagination inform the masquerades so they are charged with purpose. Art functions in a multitude of ways: social, political, judicial and spiritual. The Guro people of Central Ivory Coast, with whom I lived, generously shared with me their time and knowledge.
This work is dedicated to an extraordinary Guro son, Irie Bi Balo, who guided me along the way and whose life continues to inspire me.
—Jenny Lynn McNutt

The Dream Tree Project:
A walking tour of a sustainable campus
Social, Economic and Environmental Design all weigh equally in this example of publicly funded rural southwestern Public Interest Design.
Commissioned by celebrated architect and builder Mark Goldman, Chairman of the University of New Mexico-Taos
Construction Technology Department & Green Technology Program, Taos, New Mexico, 2006.